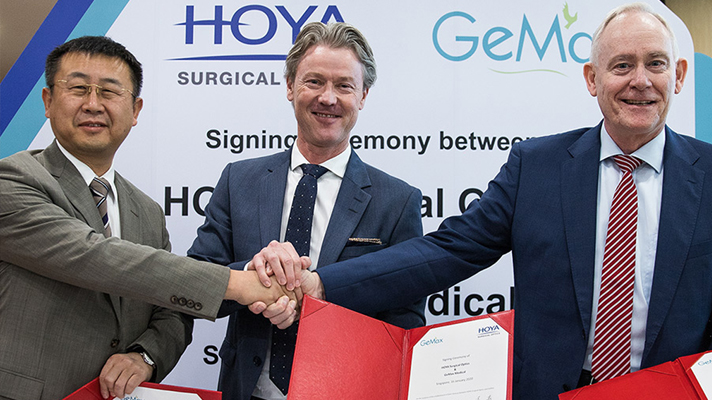 HOYA Surgical Optics launches joint venture with GeMax in the People's Republic of China
Singapore, 16 January 2020 – Today HOYA Surgical Optics (HSO) announced a new joint venture with GeMax, a distributor partner since 2006. GeMax is a specialty promotion service provider of IOLs with a strong market position and a professional reputation in China, covering more than 630 major hospitals in 32 provinces. The joint venture will be named HOYA GeMax Medical. HSO will be the majority shareholder.
"We're very excited to embark on this journey with GeMax. We have worked together for more than a decade and this next step will help take our business to new heights in China" said Mads Bjerre Andersen, Vice President Global Sales of HSO.
The ophthalmology industry is changing at tremendous speed. Change is being driven by aging populations and, given the sheer size of China, cataract and cataract blindness is a major public health issue. Change is also occurring due to rapid infrastructure development in key markets, like China, allowing more access to people in need of cataract surgery.
"This venture will allow us to be a stronger partner and meet the growing needs in China, a market of strategic importance to our organizations" said John Goltermann Lassen, CEO of HOYA Surgical Optics.
Joining forces will help us accelerate commercial success by combining sales and distribution from both companies into one unified business. It will also allow the entire HSO portfolio of intraocular lenses, across the AF-1 and Vivinex platforms, to be more broadly available to surgeons and patients in China.
"This is a natural progression given the strong partnership and mutual trust between our organizations and we're looking forward to strengthening our position in China together" said Xia Xintao, General Manager of Gemax.
The official signing ceremony took place today, 16 January 2020 and the deal is expected to close by end of March 2020.
ABOUT HOYA SURGICAL OPTICS
With more than 75 years of optical product expertise from the HOYA Group and over 30 years of experience in designing and producing intraocular lenses, HOYA Surgical Optics' mission is to improve vision and quality of life for millions of people suffering from cataract.
Based on the core tenets of Quality, Trust, Dedication and Attention to Detail, HOYA Surgical Optics develops innovative and high-quality products that offer ease of use, safety and reliability to eye surgeons and ophthalmologists worldwide. HOYA Surgical Optics is the fastest growing IOL company in the world and the global market leader in developing preloaded IOLs. For more information, please visit https://www.hoyasurgicaloptics.com.
HOYA Surgical Optics is a division of HOYA Group.
ABOUT HOYA
Founded in 1941 in Tokyo, Japan, HOYA Corporation is a global technology and med-tech company and a leading supplier of innovative high-tech and medical products. With an annual revenue of 566 billion yen (FY2018), HOYA is active in the fields of healthcare and information technology, providing eyeglasses, medical endoscopes, intraocular lenses, optical lenses, as well as key components for semiconductor devices, LCD panels, and hard disk drives. With over 150 offices and subsidiaries worldwide, HOYA currently employs a multinational workforce of 37,000 people. For more information, please visit http://www.hoya.com.
MEDIA CONTACT:
Sandra Gulbicki
Corporate Communications
HOYA Surgical Optics
sandra.gulbicki@hoya.com
Back to Top