Vivinex Gemetric
Article
References
Spec Sheet
Download

Vivinex™
Gemetric™
Vivinex™
Gemetric™
Vivinex™
Gemetric™ Toric
Designed to provide excellent distance vision and
well balanced intermediate and near vision1
Model name
XY1-G | XY1-GP
XY1-GT | XY1-GPT
Optic Design
Biconvex with thin textured optic edge
Anterior: Aspheric diffractive/refractive design
Posterior: Toric design
Optic & Haptic Materials
Hydrophobic acrylic Vivinex™ with UV-and blue light filter
Diameter (optic/OAL)
6.00 mm / 13.00 mm
Haptic design
Textured-rough haptic surface
IOL Power
(Spherical Equivalent)
+10.00 to +30.00 D in increments of 0.50 D
Cylinder power at IOL plane
Textured-rough haptic surface
1.00 D
1.50 D to 3.75 D in
0.75 D increments
Add power at Plane
Intermediate: +1.75 D Near: +3.50 D
Nominal A-constants*
119.0
Optimized constants**
Haigis a0 = -0.0199 a1 = 0.3437 a2 = 0.162
Hoffer Q pACD = 5.548
Holladay 1 sf = 1.789
SRK/T A = 118.99
Injector
multisertTM preloaded
Front injector tip
outer diameter
1.70mm
Recomended
incision size
2.20mm
Vivinex™
Gemetric™
Vivinex™
Gemetric™ Plus
Vivinex™
Gemetric™ Plus Toric
Designed to provide excellent near vision and
well balanced distance and intermediate vision1
Model name
XY1-G | XY1-GP
XY1-GT | XY1-GPT
Optic Design
Biconvex with thin textured optic edge
Anterior: Aspheric diffractive/refractive design
Posterior: Toric design
Optic & Haptic Materials
Hydrophobic acrylic Vivinex™ with UV-and blue light filter
Diameter (optic/OAL)
6.00 mm / 13.00 mm
Haptic design
Textured-rough haptic surface
IOL Power
(Spherical Equivalent)
+10.00 to +30.00 D in increments of 0.50 D
Cylinder power at IOL plane
Textured-rough haptic surface
1.00 D
1.50 D to 3.75 D in
0.75 D increments
Add power at Plane
Intermediate: +1.75 D Near: +3.50 D
Nominal A-constants*
119.0
Optimized constants**
Haigis a0 = -0.0199 a1 = 0.3437 a2 = 0.162
Hoffer Q pACD = 5.548
Holladay 1 sf = 1.789
SRK/T A = 118.99
Injector
multisertTM preloaded
Front injector tip
outer diameter
1.70mm
Recomended
incision size
2.20mm
Model
XY1-GT,
XY1-GPT
Cylinder power
at IOL plane
Cylinder power at corneal plane2
T2
1.00 D
0.69 D
T3
1.50 D
1.04 D
T4
2.25 D
1.56 D
T5
3.00 D
2.08 D
T6
3.75 D
2.60 D
1. HOYA data on file. HOYA Medical Singapore, 2020
2. Based on an average pseudophakic human eye
* The A-constant is presented as a starting point for the lens power calculation. When calculating the exact lens power, it is recommended that calculations be performed individually, based on the equipment used and operating surgeon's own experience.
** These optimized constants for the calculation of intraocular lens power published by IOLCon on their website: https://iolcon.org are calculated from 913 clinical results for Vivinex™ Gemetric™ IOLs as of August 15, 2023. These constants are based on actual surgical data and are provided by IOLCon as a starting point for individual constant optimizations. The information available on the website is based on data originating from other users and not by HOYA Surgical Optics ("HSO"). HSO therefore does not warrant the correctness, completeness and currentness of the contents on the said website.
Disclaimer
Information contained is intended for health care professionals. Please refer to the Instructions For Use for the intended purpose and a full list of indications and contraindications. Some of the products and/or specific features as well as the procedures featured in this document may not be VivinexTM GemetricTM Plus – Is designed to provide excellent near vision and well balanced distance and intermediate vision.1 approved in your country and thus may not be available there. Design and specifications are subject to change without prior notice as a result of ongoing technical development. Please contact our regional representative regarding individual availability in your country. HOYA, Vivinex, Gemetric, and multiSert are trademarks of the HOYA Corporation or its affiliates.©2023 HOYA Medical Singapore Pte. Ltd. All rights reserved.
References

HOYA data on file. CTM-23-029, HOYA Medical Singapore, Pte. Ltd, 2023.
Ribeiro et al. Analysis of Daily Visual Habits in a Presbyopic Population. J Ophthalmol. 2023 Apr 8;2023:6440954.
Schartmueller, D. et al. (2019): True rotational stability of a single-piece hydrophobic intraocular lens. In: The British journal of ophthalmology 103 (2), p. 186–190.
Pérez-Merino, P.; Marcos, S. (2018): Effect of intraocular lens decentration on image quality tested in a custom model eye. In: Journal of cataract and refractive surgery 44 (7), p. 889–896.
Tandogan, T. et al. (2021): In-vitro glistening formation in six different foldable hydrophobic intraocular lenses. In BMC Ophthalmol 21, 126.
Miyata, A. et al. (2001): Clinical and experimental observation of glistening in acrylic intraocular lenses. In: Japanese journal of ophthalmology 45 (6), p. 564–569.
Auffarth et al. (2023) Randomized multicenter trial to assess posterior capsule opacification and glistenings in two hydrophobic acrylic intraocular lenses. Sci Rep 13, 2822.
Leydolt, C. et al. (2020): Posterior capsule opacification with two hydrophobic acrylic intraocular lenses: 3-year results of a randomized trial. In: American journal of ophthalmology 217 (9), p. 224-231.
Giacinto, C. et al. (2019): Surface properties of commercially available hydrophobic acrylic intraocular lenses: Comparative study. In: Journal of cataract and refractive surgery 45 (9), p. 1330–1334.
Werner, L. et al. (2019): Evaluation of clarity characteristics in a new hydrophobic acrylic IOL in comparison to commercially available IOLs. In: Journal of cataract and refractive surgery 45 (10), p. 1490–1497.
Matsushima, H. et al. (2006): Active oxygen processing for acrylic intraocular lenses to prevent posterior capsule opacification. In: Journal of cataract and refractive surgery 32 (6), p. 1035–1040.
Farukhi, A. et al. (2015): Evaluation of uveal and capsule biocompatibility of a single-piece hydrophobic acrylic intraocular lens with ultraviolet-ozone treatment on the posterior surface. In: Journal of cataract and refractive surgery 41 (5), p. 1081–1087.
Eldred, J. et al. (2019): An In Vitro Human Lens Capsular Bag Model Adopting a Graded Culture Regime to Assess Putative Impact of IOLs on PCO Formation. In: Investigative ophthalmology & visual science 60 (1), p. 113–122. 45 (6), p. 847–853.
Nanavaty, M. et al. (2019): Edge profile of commercially available square-edged intraocular lenses: Part 2. In: Journal of cataract and refractive surgery Our trifocal family of IOLs designed to advance patients' vision.

Introducing VivinexTM GemetricTM
Our trifocal family of IOLs designed to provide a full range of vision
VivinexTM GemetricTM – Is designed to provide excellent distance vision and well balanced intermediate and near vison.1
VivinexTM GemetricTM Plus – Is designed to provide excellent near vision and well balanced distance and intermediate vision.1

Paring provides a continuous,
broad range of vision

Patient reported outcomes
High self-reported spectacle independence and patient satisfaction when pairing VivinexTM GemetricTM and VivinexTM GemetricTM Plus 6 months after surgery (n=36)1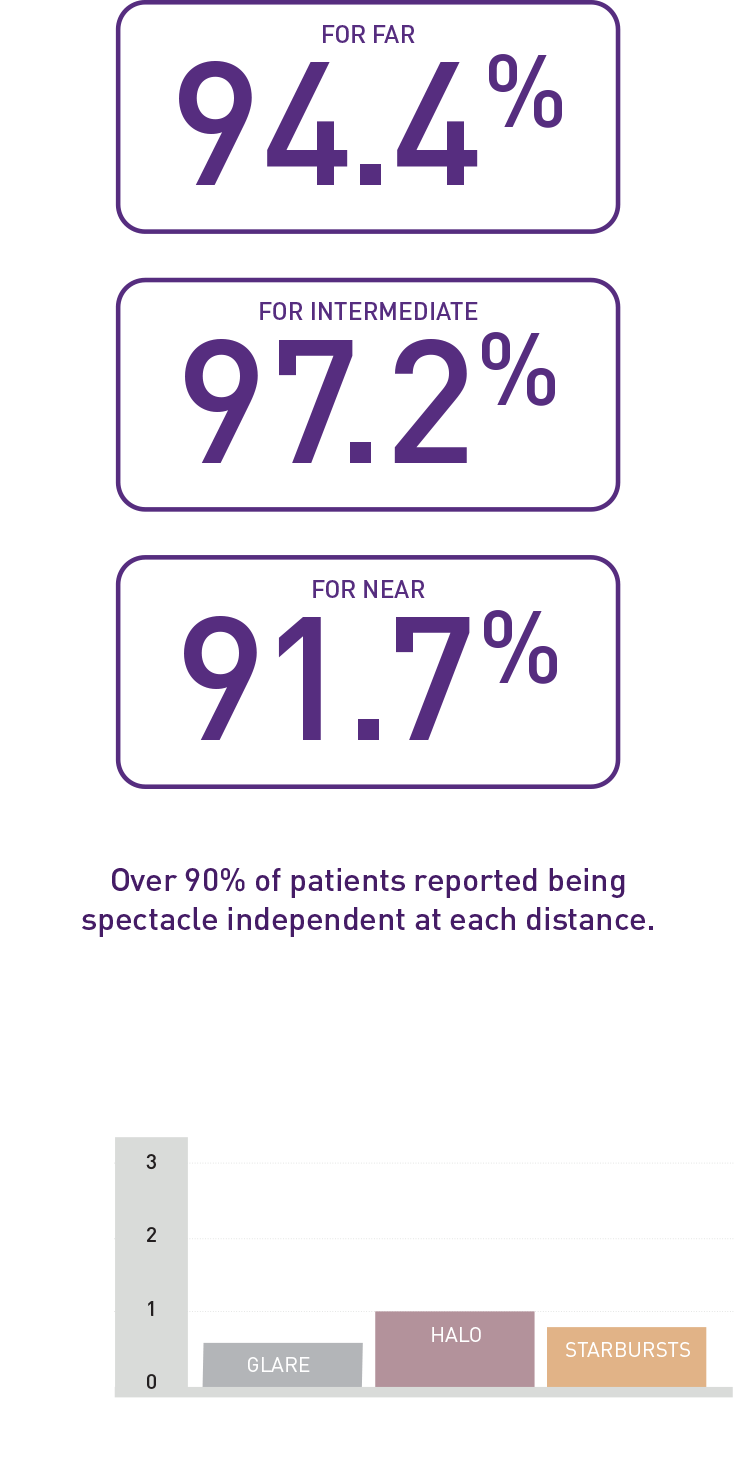 Built on the VivinexTM platform